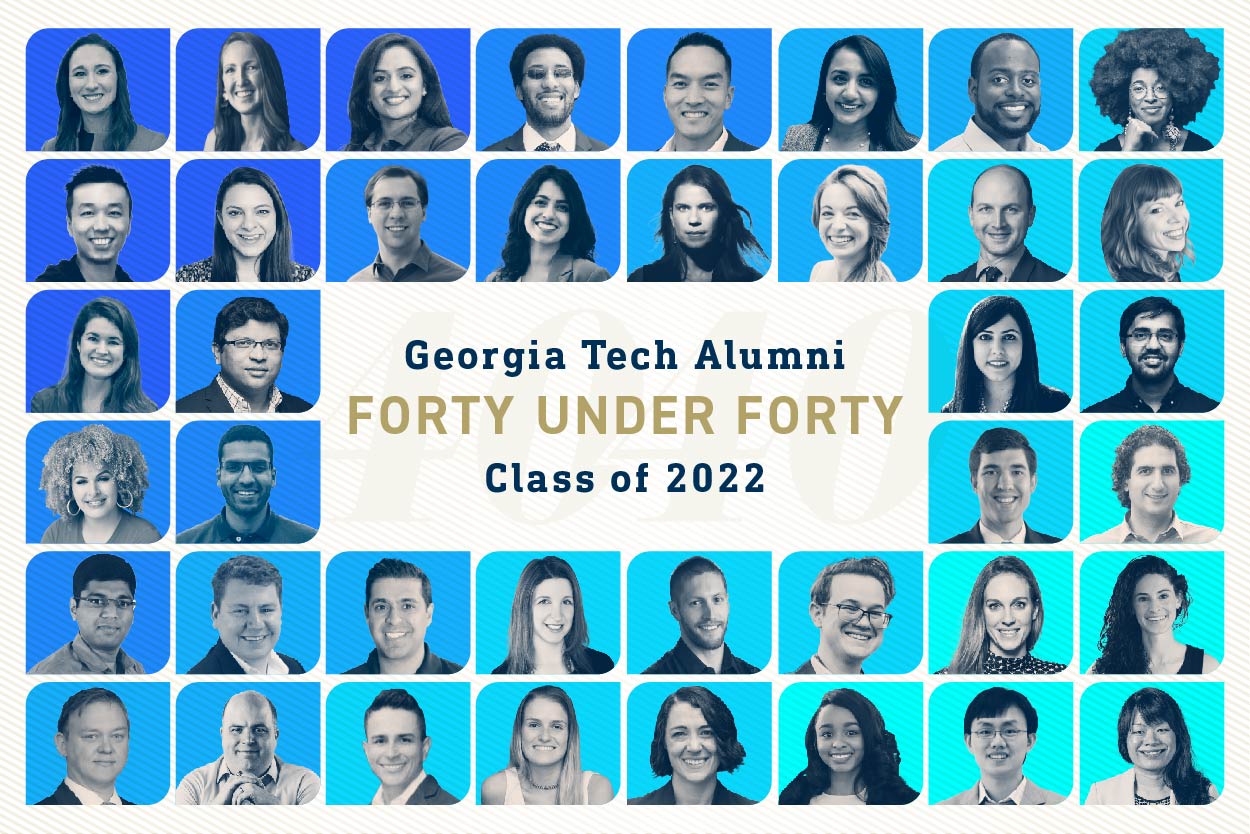 Jul 21, 2022 - Atlanta, GA
Never underestimate the power of spending a semester in another country. Study abroad expands students' world view, builds cross-cultural communication skills, and promotes adaptability and self-confidence. And you never know where a semester abroad – in particular, a semester at Georgia Tech-Europe – might take you! 
Three Georgia Tech-Europe alumni, Annemarie Cardell (GT BS ME '07), Aditya Garg (GT BS EE '16), and Andres Hernandez (GT BS EE '07; MS ECE '08) are part of the Georgia Tech Alumni Association's 2022 class of 40 Under 40. The annual program showcases the contributions of Georgia Tech alumni who are making an impact on the way we live. This year's class of changemakers span many industries worldwide, with a common thread of making a difference. 
Annemarie Cardell spent a semester at Georgia Tech-Europe while studying Mechanical Engineering at Georgia Tech. She is now an Emergency Medical Physician at Maimonides Medical Center in Brooklyn, New York. In addition to being an attending physician, she mentors residents and is an educator specializing in developing new ways to teach medicine through simulation. She is a core faculty at Maimonides, and serves as Associate Director of Informatics, where she develops new ways to teach attending physicians on clinical productivity metrics. 
Aditya Garg was pursuing his bachelor's degree in Electrical and Computer Engineering at Georgia Tech when he spent a semester at Georgia Tech-Europe. After graduating from Georgia Tech, he went on to pursue a master's degree in Computer Science at Stanford University. While at Stanford he began to build a bootstrapped startup called Centilytics, an intelligent cloud management platform that gives companies greater visibility into their cloud infrastructure. When asked about his favorite Georgia Tech memory, he said, "Georgia Tech-Lorraine was my best time." 
Andres Hernandez also noted Georgia Tech-Europe as his favorite Tech memory. He received a bachelor's degree in Electrical Engineering in 2007, followed by a master's degree in Electrical and Computer Engineering in 2008, both from Georgia Tech. He is now a Senior Director of Xbox Engineering at Microsoft, leading a team that is responsible for hardware development for the Xbox console, accessories, and xCloud. He strives to build diverse teams at Microsoft and works with nonprofits to encourage minority students to pursue studies and careers in STEM. He has two professional publication credits for articles on gaming consoles and holds six patents. In his free time, he enjoys triathlons and using sports to fundraise for organizations he supports.  
We asked Andres a few questions about his experience at Georgia Tech-Lorraine and here's what he had to say.  
GTL:  What impact did Georgia Tech-Lorraine have on your life and career? 
Hernandez:  Georgia Tech-Europe enriched my education by passing it through the lens of a global perspective. The experience allowed me to immerse in a new culture while learning and meeting amazing people. GTE provides an international environment that allows for a broad set of diverse perspectives in the classroom.   
The opportunity to travel to many countries while studying and learning about new cultures opened my horizons to opportunities worldwide. I took the time to explore work abroad possibilities while at GTE. For instance, I visited the headquarters of Schneider Electric in Grenoble, France. I was invited to tour the facilities and it was a great opportunity to meet and network with several people on the Schneider Electric team.  
I took French as one of my electives. GTE, and France, was the perfect place to practice my not-so-great French.  
Lastly, this experience ignited my passion to travel around the world to learn from many other cultures.  
GTE: What made you decide to pursue a master's degree at Georgia Tech? 
Hernandez: I went to GTE as an undergraduate student. I still remember the courses I took: Electromagnetics, Systems and Controls, and French II. GTE was one of the experiences that inspired me to pursue graduate school at Georgia Tech. I met great professors at GTL who mentored me on the decision to continue my studies with a master's degree. This decision was critical for my career.  
GTE:  Any advice for students considering spending a semester at GTE? 
Hernandez: Studying abroad can accelerate your education and career by framing all your experiences with a global perspective. Diverse perspectives are key to product development, and GTE is a great avenue to get these perspectives. Studying abroad is a wonderful opportunity to learn while traveling and you can even explore potential work abroad opportunities.   
If studying abroad seems intimidating, reframe it as an opportunity. Success is a product of learning cycles. 
-------------------- 
It's clear that a semester at Georgia Tech-Europe had a strong impact on our three alumni changemakers and we look forward to hearing more about all that they and the rest of the class of 2022, will go on to accomplish.