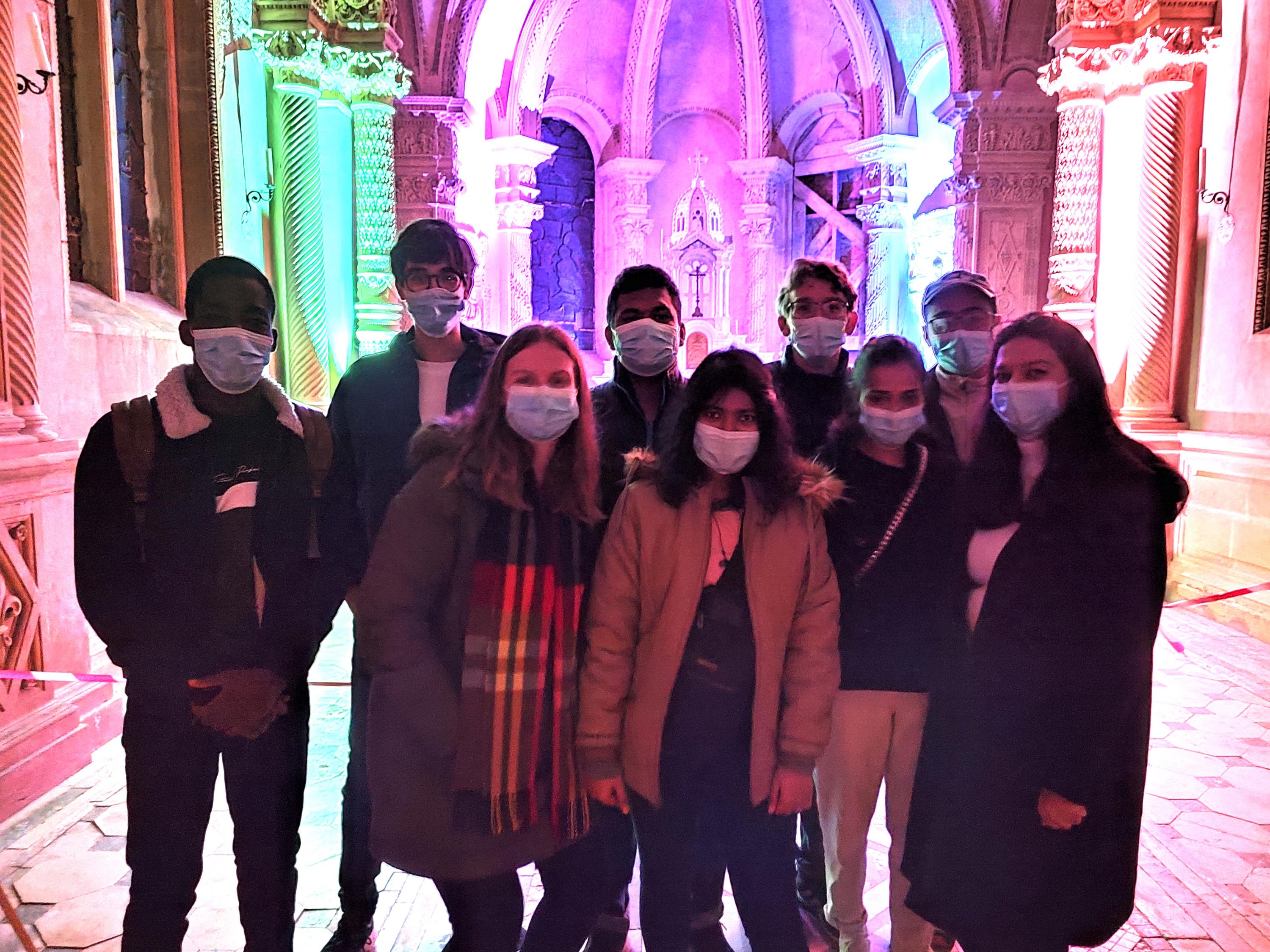 Mar 28, 2022 - Metz, France
Georgia Tech-Europe students are focused on their studies during the week, but this does not mean that they cannot take part in some culturally engaging events outside of their classrooms and dorm rooms! With Covid cases declining in France, students were able to participate in some enriching excursions during the Fall semester. Here is a brief look at three different opportunities students participated in to get out and have some fun!  
Visiting a Chateau by Night  
Georgia Tech-Europe's student activities association, known as the Bureau des étudiants (BDE) in French, wisely chose to plan an event during La nuit des châteaux (Chateau Night), an annual event that takes place throughout France on October 23rd. Hundreds of chateaus around the country open their doors for an atmospheric visit by candlelight. The goal of the evening is to increase public awareness of discovering and preserving the heritage of these beautiful monuments, with the majority of proceeds going toward preserving the chateaus.   
With the help of Katia Ménard-Pons who oversees campus life at GTE, the BDE organized a visit to the Château de Preisch, located about an hour's drive from Metz. Guided by candlelight, students experienced the magic of a nocturnal visit of a gorgeous local chateau, wandering the illuminated chateau halls to the accompaniment of music performed by local musicians. It was a night to remember and far away from the tried-and-true tourist trail.  
Lunch at a Hotel Management School  
A group of GTE students enjoyed lunch at a local hotel management school in Metz. It was a chance to mingle with hotel management students who were around the same age, while savoring a multi-course lunch prepared by student chefs. Most discussions were held in Franglais or in English, and any GTE students who were studying French had a captive audience of local students who were more than happy to chat with them in French. A fun time was had by all, and it was an immersive cultural experience that the students will never forget.     
Local Sporting Tournaments  
Every year in late September, GTE invites students to the "Moselle Open," a professional tennis tournament that is part of the ATP World Tour. The annual event draws world-ranked professional players and is played on indoor hard courts at the Arènes de Metz, a local indoor sports arena. It is also a great place to see up and coming professional tennis players such as Metz' own Ugo Humbert, as he tries to move up in the professional tennis rankings.  
GTE provided tickets for 20 students to attend this local "Open" that happens only once a year. Another group of 20 students got to experience a fast-paced women's professional handball match, while cheering on local champions, the Dragonnes, on their home court at the Arènes de Metz sports arena.  
These were great opportunities for students to discover local sports teams and watch a tennis open with professionally ranked players. Cheering at sporting events is a fantastic way for students to blow off steam and take a break from their studies.