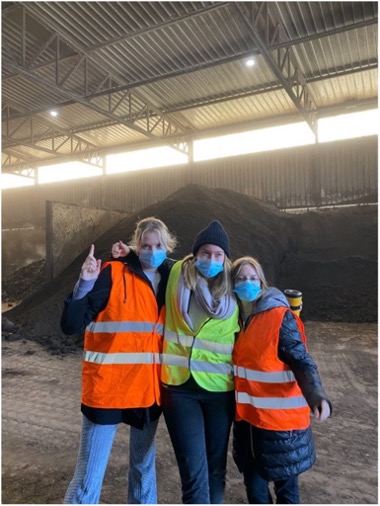 Mar 28, 2022 - Metz, France
Since the development of the undergraduate program at Georgia Tech-Europe (GTE) in 1998, undergraduate students have flocked to GTE each semester to experience Europe, while staying on track toward their degree, and this year is no different! With 131 students at GTL this Spring, 330 students set to attend in the Summer, and applications currently open for Fall, GTE will serve over 500 undergraduate students in 2022 alone.  
It is clear why students continue choosing GTE as their home-away-from-home, as GTE offers students unique opportunities to immerse themselves in the culture of France and to become part of the community in which they study.  
Serve-Learn-Sustain France: French Immersion Program  
The Serve-Learn-Sustain France (SLS-France) Program launched in 2019 and is now offered at GTE each Fall. This program gives students with an intermediate level of French language skills the opportunity to take their cultural immersion to the next level, gain advanced French language practice, and participate in the region's sustainability efforts (Metz is nicknamed "The Green City," after all!).  
The students in this program are required to take two French language courses: one classroom-based and one community-based. In class, students examine ethical, political, and economic issues, study the logic and practice of local and regional cooperation in Metz as well as the practices of international cooperation, and gain an understanding of eco-responsibility. Outside of the classroom, the students put these lessons to use in real-time by engaging in fieldwork with local partners, attending events in Metz, touring local facilities related to sustainability, and participating in zero-waste workshops.  
This year's cohort of 17 students was led by Dr. Stéphanie Boulard, who enriched the program with new visits and workshops, and expanded collaborations with local partners. Fall students had a packed schedule with visits in Metz and the surrounding regions along with trips to Strasbourg and Paris, learning about everything from how to make plant-based zero-waste meals to visiting Méthavalor, a biomass recycling center.  
"I will miss this lovely city I have gotten to know so well and the community that we have created here in the SLS-France program. This program has given me lifelong friends and memories that I will never forget, and for that, I am eternally grateful," student blogger Savannah Simpson wrote in her blog post reflecting on the Fall 2021 SLS-France Program.  
The Fall SLS-France students will never forget this semester where they truly personified René Dubos' maxim - "Think globally, act locally." 
Taking Learning Outside of the Classroom with INTA and HTS Courses 
One of the many unique opportunities that a semester at GTE offers is the ability to take learning beyond the walls of the classroom. Students can learn about a historical event in class, and then actually travel to see the relevant sites and artifacts located near Metz!  
As part of the INTA 2221 course, "Politics of the European Union: Metz as a Gateway to Understanding France and Europe Today," Dr. Vicki Birchfield and adjunct lecturer Sonia Serafin put their lecture material into historical, geostrategic, and cultural context by taking students on site visits to important landmarks in and near Metz. Within the first week alone, the instructors guide students through Trier, Germany (Germany's oldest city and home to Roman baths, a Roman amphitheater, and the Karl Marx Museum), to the outskirts of Metz to see Roman aqueducts and an archeological site, and through downtown Metz for visits to the St. Etienne Cathedral, St. Maximin church, Museum of the Golden Court, and Centre Pompidou. The site visits span the course of the semester and even include trips to the European Parliament in Strasbourg and the Schengen Museum in Luxembourg.  
Similarly, the HTS 2100 course "Science and Technology in the Modern World: Regions of Europe," taught by Dr. Tim Stoneman is an interactive course based around industrial regions. The site visits cover a wide array of industries present in the Grand Est region, such as breadmaking, cast iron and ductile iron, video games and e-sports, start-up incubators, nuclear energy production, and solid waste management. Sometimes, students even get the chance to visit the BMW headquarters in Munich or the Airbus headquarters in Toulouse! 
"I think the ability to visualize both the history but also the motivations of people historically linked to the city and its buildings is one of the main reasons why it is so important to visit these sites," an HTS 2100 student wrote about this course in 2021.  
Georgia Tech-Europe aims to ensure that all students can participate in experiential learning both through our academic programs and extracurricular activities.