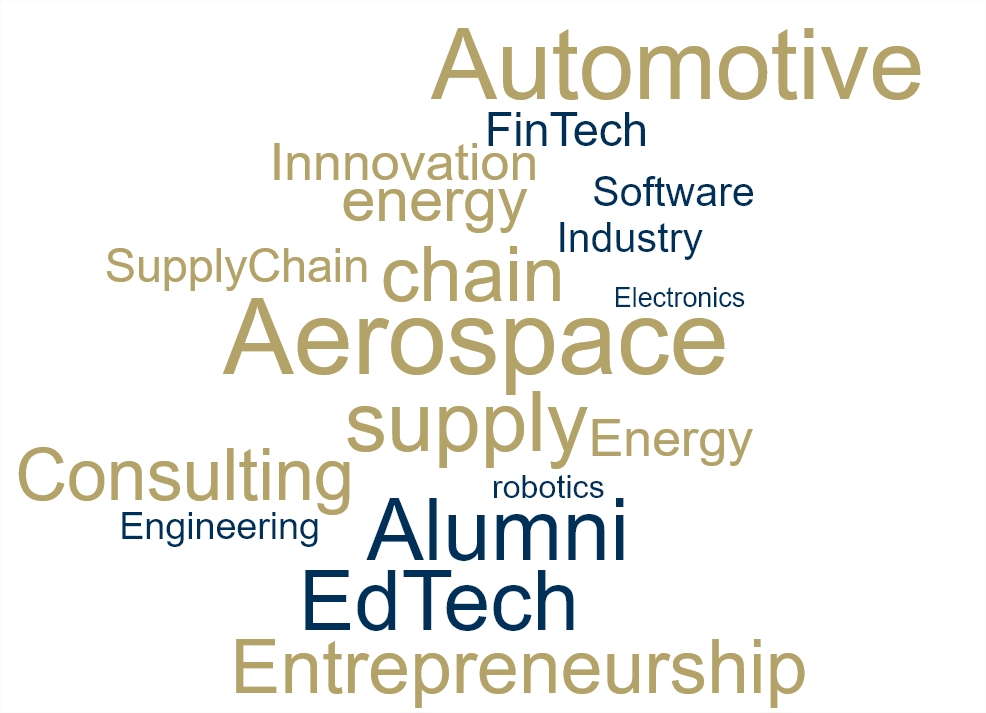 Mar 29, 2022 - Metz, France
Georgia Tech-Europe (GTE) continues to connect future engineers, alumni, and industry leaders through a growing alumni network and a dedicated group of corporate partners. The network is developing into an ecosystem that acts as a gateway linking the European activities of Georgia Tech to the main campus. Alumni who have become experts in their fields, researchers, academics, and entrepreneurs, along with other national and international players, have come together to form a network that attracted more than 350 people to virtual and in-person events held over the last two years.  
In 2021, John Fritsch, who handles Georgia Tech-Europe's Corporate Relations and Alumni Affairs, gathered leaders from thirteen different companies for a "Corporate Seminar Series" – Orano, Schlumberger, Wavestone, Manhattan Associates, Fuzzy Logic Robotics, Driveco, GOM, General Electric, Airbus Group, Nanovation, Flying Whales, Argon & Co, and Imerys all to spoke to students about industrial innovations and career perspectives.  
The pandemic did not slow things down, as the entire series was held virtually. Said Fritsch, "Holding the Corporate Seminar Series virtually allowed us to diversify the companies who were able to participate, creating value for students and a place for companies to vet new talent." A variety of subjects and fields were represented in the series, notably, the semi-conductor industry, autonomous boats, innovations in supply chain management, energy, and innovations in aerospace. International leaders, startups and local companies were all represented, making for a good deal of diversity.  
Finally, 2021 also proved to be a great time to increase the number of workshops dedicated to careers. GTE doubled the number of workshops on subjects such as finance and engineering, consulting, preparing for job interviews, finessing CVs/resumés, the importance of networking, or providing students with guidelines for job-searching in the U.S. Some of these workshops will also be made available to Georgia Tech-Lorraine masters students completing their studies on the Atlanta campus. 
While a challenging time, the pandemic provided a fantastic opportunity for the Georgia Tech Office of International Development to continue building Tech's European alumni network. In 2020-2021, they organized over 15 events, at first virtually, and then gradually hybrid and in-person. Events included four different Virtual Mini Forums drawing up to 55 attendees each, following up on the popular European Entrepreneurship Forums that began in 2018. Topics ranged from Geriatronics – focusing on care of the elderly, to EdTech and Artificial Intelligence, and have helped to solidify Tech's growing European network. 
There have been several virtual meetings of the "GT Women of Influence" group, a place to learn and network for Georgia Tech's many talented alumnae. Dr. Beth Cabrera moderated a panel discussion on "How women become members of the decision-making group in their organizations?" To date, this group has met five times, drawing up to 30 participants for each event. We look forward to adding more women to this network.   
Another innovation that came out of the pandemic were virtual "Coffee Breaks" – meetings organized around topics such as startups or engaging in social media with your business. With a more intimate attendance of about a dozen alumni at each meeting, these events offer great opportunities for European alumni to network and get to know one another.  
In 2021, nine events were co-organized by the Georgia Tech Office of International Development, Georgia Tech-Europe, and the GT Club de France, presided over by Aurelien Cottet and Sebastien Leclerc. Get togethers were held in Paris and Lille, and UK-based alumni held a holiday gathering in December in London. 
To keep abreast of what is going on in Tech's European network, we invite you to join the following groups: 
LinkedIn: GT Europe Alumni Group 
Georgia Tech Office of International Development, Europe