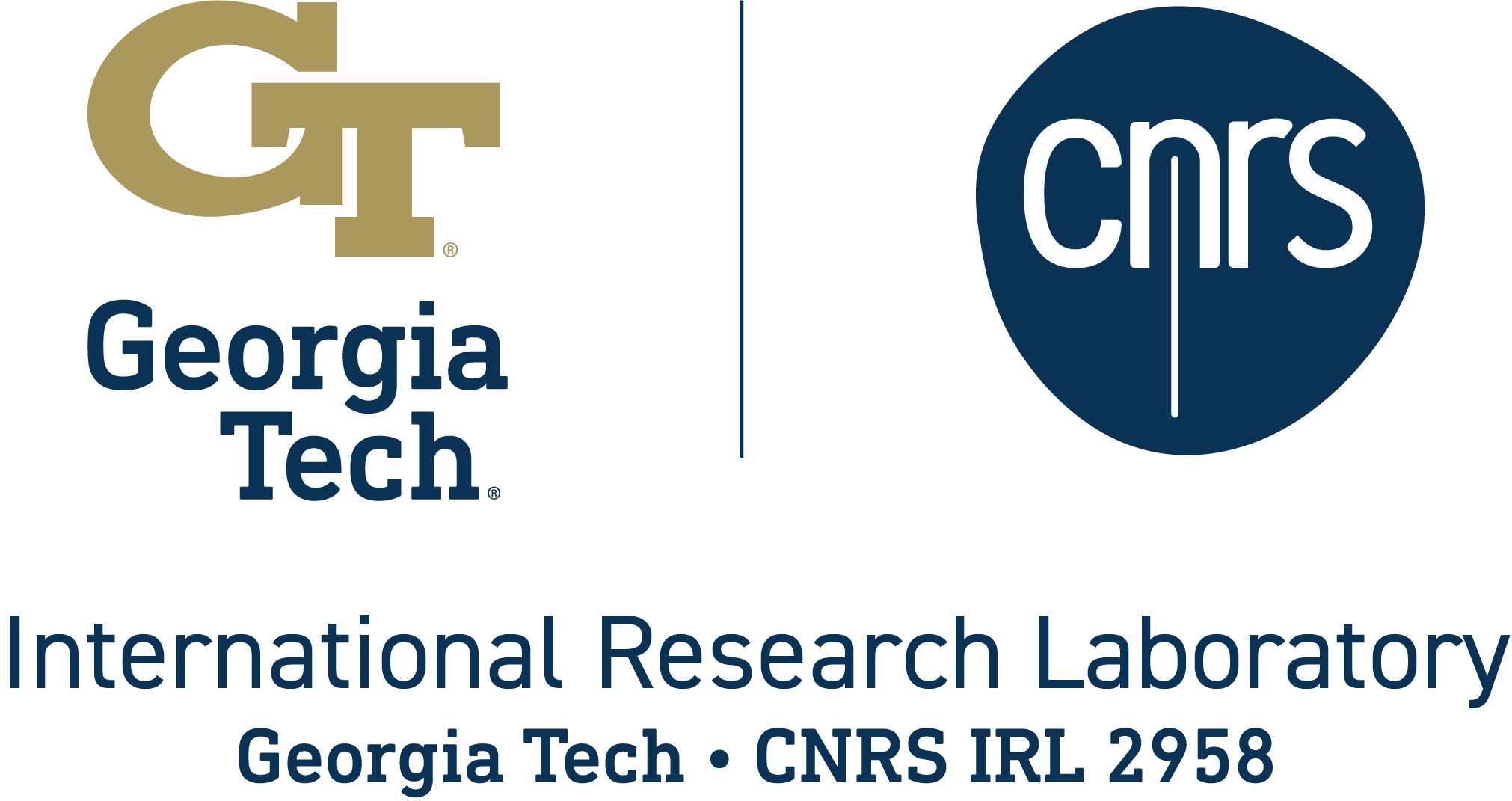 Mar 28, 2022 - Metz, France
Georgia Tech-Lorraine is home to Georgia Tech-CNRS IRL 2958, an international research laboratory jointly created and operated by Georgia Tech in the U.S. and the CNRS (the French National Center for Scientific Research) in France. Established in 2006, and directed by Jean-Paul Salvestrini, adjunct professor at Georgia Tech, the lab serves as a bridge between France and Atlanta, with researchers, postdocs, students, and established academic and industrial partners joining forces for research around four main themes: 
Smart Materials (functional and structural) 

Non-destructive evaluation by acoustic and THz spectroscopies   

Robotics and Artificial Intelligence 

Simulation and evaluation of complex systems 
The IRL includes 20 faculty-researchers and other researchers with 11 based in France and nine in the U.S. There are four technical research support staff, about 30 doctoral students and 10 postdocs. In total, over 60 researchers participate in Georgia Tech-CNRS IRL 2958 activities.  
All activities are carried out within the framework of projects financed by European Union (EU) institutions, the French National Research Agency (ANR), several regional agencies, and in collaboration with industrial companies. 
Sixty-five doctoral students over the last five years 
Over the past five years, 65 doctoral students, a quarter of them women, were supervised by IRL researchers. The majority of students are from Asia and Africa, with some coming from the US and France. Many were enrolled at Georgia Tech, while others were enrolled at partner institutions, such as the University of Lorraine, CentraleSupélec, and ENSAM. Most of these doctoral students have gone onto careers with large industrial groups, a testament to the commercialization of research coming out of IRL 2958. 
Impressive results 
The IRL recorded more than €1.3 million in new contracts in 2021. The lab is also involved in Networks of Excellence such as LabEx GaNeXT, a cluster of French research teams involved in GaN technology, LabEx DAMAS, and the IDEX/I-SITE LUE (part of France's Investments for the Future program) led by the ANR and the Carnot ARTS Institute. Georgia Tech-CNRS IRL 2958 is also part of several scientific networks piloted by the CNRS: The research network NanoTeraMIR, HOWDI research group, as well as the technological network, Sensors for Environment. 
Within the last five years, Georgia Tech-CNRS IRL 2958 researchers have published three book chapters and 264 articles in international scientific journals and conferences, along with filing five patents. In addition, researchers were invited to present at international conferences 28 times. 
Apart from its two main sites in France and the U.S., Georgia Tech-CNRS IRL 2958 has also setup Open Labs such as the OpenLab PSA Peugeot Citroën, and the ATLAS (Associated Trans-Mediterranean Laboratories for Applications in Solar Energy, formerly called LIA ATLAS) International Research Project in Morocco. ATLAS brings together a consortium of partners including the Université Internationale de Rabat, the Université Mohamed V, the CNRST, and the CNRS, and conducts collaborative research in renewable energy, bringing in around 30 faculty-researchers from different establishments to work together on projects. 
Teams on both sides of the Atlantic, with an IRL mirror site on Tech's Atlanta campus 
The mirror lab in Atlanta continues to grow. Claire Berger (DR CNRS, Institut Néel), Thierry Leïchlé (CR CNRS, LAAS) and William Hunt (Pettit Microsystems Research Center, Georgia Tech) joined Georgia-CNRS IRL 2958 and were assigned to the mirror site in Atlanta in 2019. Tansu Celikel joined the site in 2021, and was also named as the new chair of the School of Psychology in Georgia Tech's College of Sciences. 
Berger, Leïchlé, and Hunt's research project focuses on graphene optoelectronic components, BN, and GaN-based biological sensors, whereas Celikel's research concerns cognitive robotics. 
Even with the restrictions presented by the pandemic, the IRL stepped up its involvement in research projects, adding several new projects in addition to the ones that were already underway. Here is a look at some of the projects: 
FLEXLED Project: Financed within the framework of LabEx FANEXT on manufacturing flexible micro-LEDs. This is a collaboration with C2N, a French flagship laboratory for research in nanoscience and nanotechnology. 
TWO-I Project: Funded by the TWO-I company for the development of computer vision algorithms dedicated to the study of crowd behavior. 
BIOSENSORS Project: Funded by the Carnot ARTS Institute on the implementation of biological sensors based on HEMT (high-electron-mobility transistor) technology.  
COMETAS and XS-META Projects: European project on high-entropy metal alloys. 
GRAPHENE CORE3 Project: Flagship European Graphene project on the technological development of graphene. 
TERAHI Project:  Contract with the Fraunhofer Institute for Industrial Mathematics (ITWM) in Kaiserslautern, Germany, on the development of an online Terahertz (THz) 3D imaging system. 
INTENT Project: Project funded by the Carnot ARTS Institute on the implementation of a test bench for the detection and management of airborne particles and pathogens in closed interior spaces. 
Project FAILPRED: Project funded by the Carnot ARTS Institute on the use of Terahertz technology for fault identification and prediction of associated failures. 
Georgia Tech-CNRS IRL 2958 had a very productive year despite restrictions due to the Covid-19 pandemic. Current projects continued their momentum, and with more than €1.3 million in new contracts in the past year, 2022 is already busy.