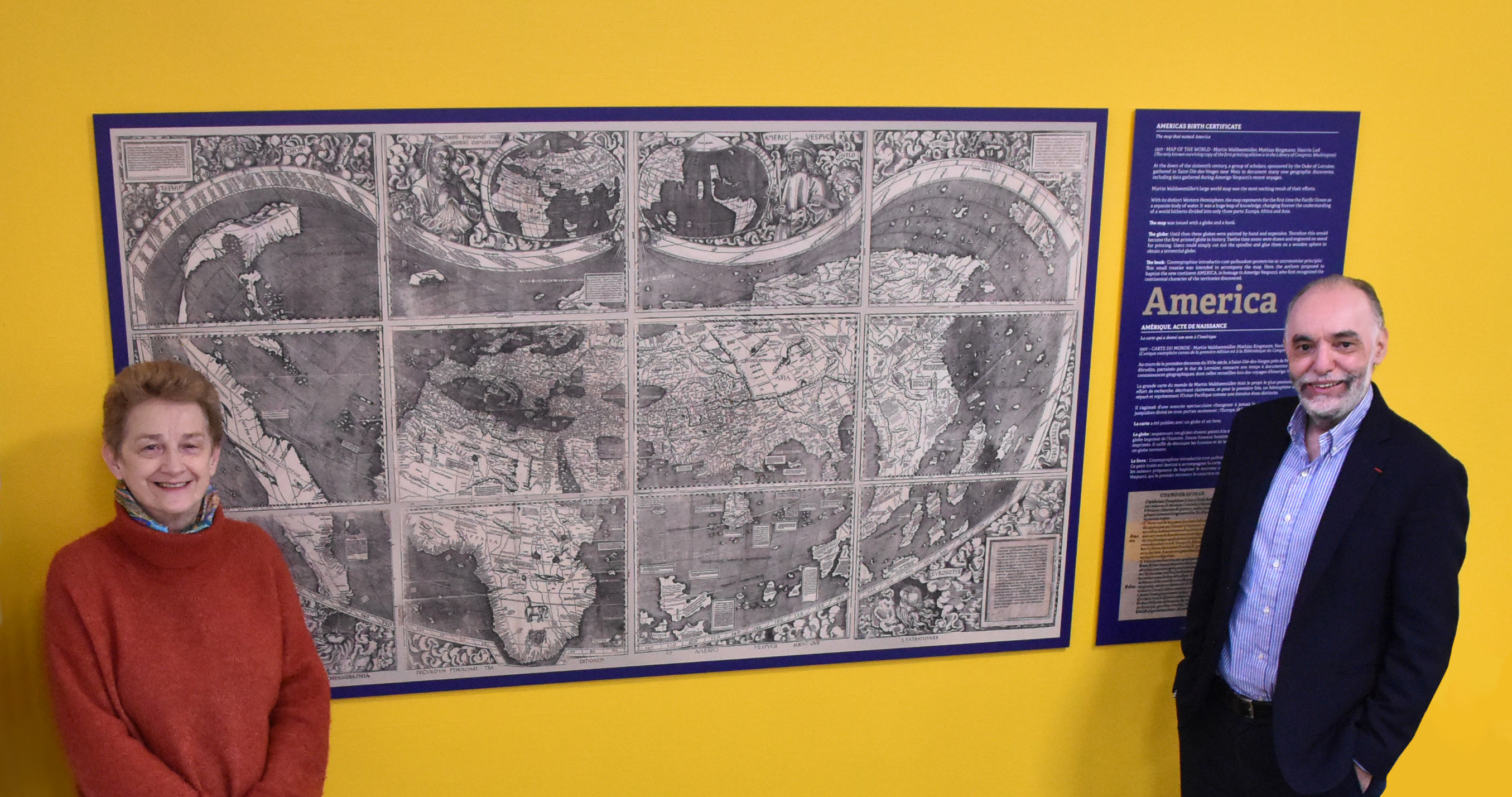 Mar 28, 2022 - Metz, France
Would you believe that France's Grand Est region shares strong historical ties to the U.S.? Take a look at some of the historical figures and events that link the two -- there was the Marquis de Lafayette, a French military officer who trained in Metz and fought in the American Revolutionary War; Alexis de Tocqueville, the French political theorist who went to college in Metz and later penned the influential book, Democracy in America;  Frédéric Auguste Bartholdi, from Colmar, France in the Alsace region – he was the creator of New York's colossal Statue of Liberty; not to mention connections to World Wars I and II.   
To help tell this story, we've hung a copy of the famous map by Martin Waldseemüller in Georgia Tech-Europe's student lounge. The only known surviving original print of the first edition of this map can be found in none other than the Library of Congress in Washington, D.C., so there's another Franco-American connection! 
This is the map that gave America its name (America's birth certificate) -- During the first decade of the 16th century, in Saint-Dié-des-Vosges, a small town near Metz, a group of scholars sponsored by the Duke of Lorraine, including German cartographer, Waldseemüller, devoted their time and effort to acquiring new geographical knowledge. They were particularly interested in the data gathered by the Italian explorer, Amerigo Vespucci, that came out of his travels to the New World.   
Martin Waldseemüller's huge world map was the most exciting output of this research effort as the map clearly depicted, and for the very first time, a separate Western Hemisphere, with the Pacific Ocean as a distinct body of water. It was a spectacular breakthrough that forever changed the European understanding of a world that up until then had been divided into only three parts – Europe, Africa, and Asia. It was Waldseemüller who christened the new continent, "America" in recognition of the discoveries of both Columbus and Vespucci. The original map was published with a globe and a book. Stop by the Georgia Tech-Lorraine campus to see the map and read more about the story!  
-------------------------------  
This map and story were brought to Georgia Tech-Lorraine by Sonia Serafin's Leonardo Program. Read more about what the Leonardo Program has been up to below:  
The Leonardo Program  
This cultural and multidisciplinary program continues to sharpen the critical eye and develop the artistic tastes of the many students who participate in its offerings. Georgia Tech-Europe is fortunate to have numerous cultural partners in Metz and the Grand Est region who are happy to open their doors to our students.  
In addition to well-established live events (shows, operas, concerts, visits to monuments, drawing courses, etc.), the program continues to offer links to carefully selected virtual events, including access to important artistic works, concerts, virtual museum visits, films, etc. Students have loved these curated virtual events, especially during the pandemic.   
Several exciting events are on the calendar this spring – musicians from the Orchestre National de Metz will be back on campus with their famous name-that-tune-style "Blind Music Quiz" featuring theme music from American films and TV shows. A nice mix of undergraduate and graduate students always makes for an interesting exchange of the many different nationalities found at Georgia Tech-Europe.