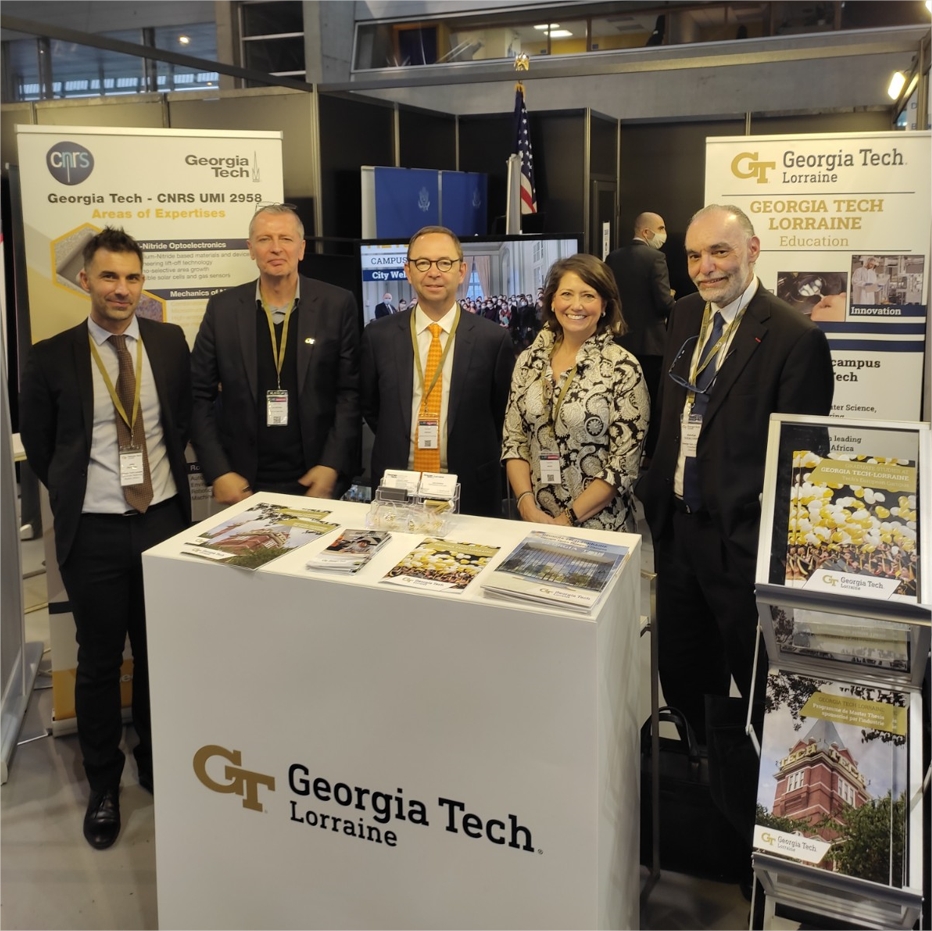 Mar 28, 2022 - Mulhouse, France
 Georgia Tech-Europe joined over 150 national and international companies from across the manufacturing ecosystem of France, Germany, and Switzerland, in Mulhouse, France on November 30th and December 1st, 2021, to participate in the BE 4.0 Industries of the Future Exhibition. Organized by the Parc Expo Mulhouse, the event is known as "the place to BE" at the heart of Europe, where French, German, and Swiss industry strategists meet. Featuring plenary conferences led by Franco-German journalists, the annual event brings together industry leaders, business experts, and start-ups, with a focus on technological solutions, new products, and promoting innovation.  
BE 4.0 takes place in Mulhouse, in the French region best known for industrial investment in manufacturing (automotive, energy, and agri-foods, among others). Under the joint banner of the Territoires d'industrie initiative and La French Fab, a brand launched by the French government to promote French industry, the Grand Est region is the benchmark for Advanced Manufacturing in France.  
A delegation from  Georgia Tech-Europe, Georgia Tech, and Georgia Tech-CNRS IRL 2958, attended the event at the invitation of the Consulate General of the United States in Strasbourg. Led by Georgia Tech-Lorraine President, Abdallah Ougazzaden, and Bernard Kippelen, Vice Provost for International Initiatives at Georgia Tech, the delegation included Jean-Paul Salvestrini, Director of Georgia Tech-CNRS IRL 2958, Caroline Wood, Executive Director of Corporate Relations in the Office of Development at Georgia Tech, and John Fritsch, Corporate and Alumni Relations Manager at Georgia Tech-Lorraine. The delegation joined three American companies in the American Pavilion, which was visited by attendees from various backgrounds in politics, media, academia, and industry. At BE 4.0, Georgia Tech-Lorraine networked with manufacturers from more than fifteen different business sectors, setting up meetings and creating opportunities for collaboration.  
In addition to representing the Georgia Tech ecosystem at the exhibition, the delegation attended a business luncheon on Tuesday, November 30th, hosted by Consul General Darragh Paradiso, who assumed her duties as Consul General of the United States in Strasbourg in August 2020. Ms. Paradiso and her team, including Felipe Tello, Public Diplomacy Assistant, also present at the luncheon, represent the United States in the Grand Est region of France. Ms. Paradiso also serves as Deputy Permanent Representative to the Council of Europe.